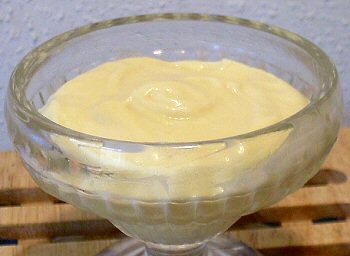 In our family, we would put this into single-serving bowls and just eat it as is. But you can also let it set into a pre-baked pie shell (or graham cracker crust), and add things like sliced bananas, or Vanilla Wafers.
1 tablespoon butter or margarine/oleo
1.
Mix cornstarch, sugar and salt in pan.

Set aside.
2.
In a separate bowl, beat together egg and milk.

Stir into cornstarch mixture.
3.
Cook and stir mixture over medium heat, until it thickens.

Cook one minute longer after thickening.
4.
Stir in butter/margarine/oleo and vanilla.
5.
Chill completely in refrigerator before serving.
** Makes 6 servings of 1/3 cup each.